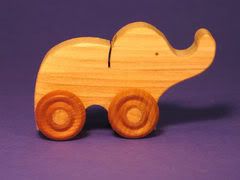 I'm so excited to have the chance to test, use, and enjoy so many wonderful products. My favorite by far have to be the natural products.
North Star Toys
is just another one of those great companies. They've created an entire line of toys for children made from wood. This baby has the exciting chance to test out products like the
Baby Twirl
, a perfect toy for grasping. Made from contrasting birch, walnut, poplar and maple the smell of this toy alone is fabulous! We were also sent this adorable
Rollie Elephant
.
I can't begin to tell you how amazing the box smelt when I opened it.
North Star Toys
really is a company I feel that is dedicated to being more environmentally responsible and their toys show off their dedication. Each toys has a handmade effect, and it is! Check out
North Star Toys
today, not only is it great for the planet but also your wallet!